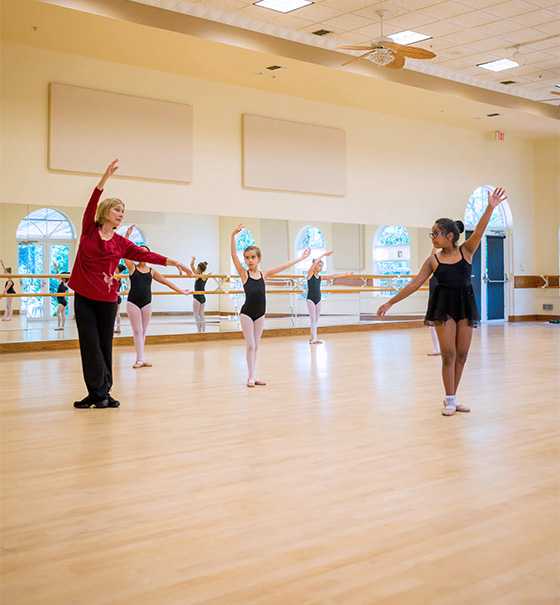 Études de Ballet (ÉdB) was founded in 2000 by the talented Sybil Burt. Today ÉdB is directed by Ruth Hoagboon, who is honored to continue Sybil's legacy of outstanding dance instruction.
Top quality ballet instruction has always been at the heart of ÉdB and it is this that enables students to excel and achieve versatility in all forms of dance such as tap, jazz, lyrical, musical theater, hip hop and acrobatics.
ÉdB is proud to boast teachers with international credentials and certifications from the Royal Academy of Dance, the Imperial Society of Teachers of Dance and Acrobatic Arts. You can rest assured, whether you are a once class a week dancer or on our unlimited dance class program, your instructor is a highly trained professional just bursting to share their passion and expertise with you.
Ruth S. Hoagboon
Director | LRAD, RAD, RTS
Ruth trained at the Elwyn School of Dance in England for twelve years in RAD ballet, tap and modern dance. After that time, she was one of only twelve students worldwide to be offered a place to study The Art and Teaching of Ballet at the College of the Royal Academy of Dance in London, England. She also studied Child Psychology, Anatomy as related to the dancer, Laban Notation, Dance History and Music. She graduated as Licentiate and Advanced 2 Executant of the Royal Academy of Dance and with teaching qualifications in Modern, Disco and National Dance from the Imperial Society of Teachers of Dance. Ruth has taught dance for over 25 years in England, Germany and across the USA while stationed at US Air Force bases with her husband and family.
Recipient of the Phillip Nind Award for modern dance and the award for excellence in the Karsarvina Syllabus, Ruth has been an instructor, choreographer, artistic director and associate director, while successfully entering students for examinations. She has staged many productions including Cinderella, Coppélia and The Nutcracker as well as choreographing for and directing dozens of Recitals. Versed in all forms of dance, Ruth is a sought-after teacher and speaker, and has lectured at universities on the subject of teaching children with difficult physiques and how to break down and teach steps to students of all ages and levels. Miss Ruth is a full time instructor in all levels of ballet here at Études de Ballet and a CBTS tutor for the RAD, training teachers who wish to become registered RAD instructors.
Simone F. Hoagboon
Dance Team Director | ARAD
Simone has grown up immersed in the world of dance. She is following in her mother's footsteps by training as an RAD certified dance teacher and international RAD examiner. A teaching assistant for more than four years, Simone teaches Dance Discovery ballet classes and acro. She has passed ballet examinations with the RAD and ISTD with the high marks of Merit and Distinction, and is currently working towards the RAD Advanced 1 ballet exam. She is also trained in tap, jazz and modern dance and was a competing gymnast with the USA TOPs program. Simone has performed in numerous productions including solo roles in
The Nutcracker, Coppélia
and
The Rite of Spring
celebration with the Joffrey Ballet.
Simone is a recent Barron Collier High School graduate. She has been taught and inspired by many teachers worldwide including Julian Adair, Sybil Burt, Lynne Nevin, Maya Taylor, Patti Zukaitis and Ruth Hoagboon. A budding choreographer, Simone's choreography has been performed on stage and in an international ballet competition.
Helen has been part of the Études de Ballet & Co. family for many years and we are delighted to welcome her back for another season! She grew up in England where she trained with the RAD system from Primary through Advanced Exams. At the age of 16, Helen joined Northern Ballet School (NBS) where she trained under RAD examiner Patricia McDonald. While there, she attained her ISTD (Imperial Society of Teachers of Dance) teaching certificate in ballet after passing levels Elementary – Advanced.
Helen was on the classical course and danced in productions of Giselle, La Bayadere and The Fairytale Nutcracker. While at NBS she also trained in Jazz, Tap, Modern, Contemporary and National Dance. Helen danced with the Manchester City Ballet at the opening of the Dancehouse Theatre in the presence of HRH Princess Margaret and also at Manchester Airport for Air 2000 in the presence of HRH Prince Philip.
After graduating from NBS she went on the dance all around the world on cruise ships in Vegas style shows, which is where she met her husband. Helen instructs Adults and our Advanced Level Ballet students at Études de Ballet & Co.
We look forward to next year and cannot wait to see where her dancing will take us.
I want to Congratulate ALL the staff, especially Mrs. Ruth, on the awe inspiring production of Cinderella this past weekend. I was dazzled by the incredible performances of all of the dancers. These last couple of days I have run into a few people that attended the performance. They had nothing but praise and delight to share. One could not believe how professional the sets were and how entertaining the dancers and different performances were. She thought she was simply coming to see an end of year dance recital, and was pleasantly surprised by the massive and entertaining production she witnessed. Personally, I want to Thank each of you at Etudes for your dedication, devotion, and instruction for my niece Cheyanne. Everyone at Etudes from her instructors to her fellow dancers has made her feel welcome from the start. Both she and I were surprised that she was able to take part in this production since we had joined the studio later in the year. What an uplifting experience it was for her. Most importantly, I want to express my deep gratitude for each of you helping Cheyanne reclaim her love of dance. It was something I saw fading that brought great sadness to me. My heart is full each day as I watch her eagerly get ready for and participate in class, and a smile crosses my lips and eyes as I hear her speak of her instructors, staff, fellow dancers, and the studio as a whole, with great delight. My only regret is that we did not join earlier.
Études de Ballet is a wonderful dance studio. One of our daughters has been dancing there for four years primarily under the instruction of the fantastic Director Mrs. Ruth. Although we started at Études for the ballet, they offer instruction in many types of dance and our other daughters enjoy classes such as Acro and Musical Theatre. The summer camps are great too!
The passion the instructors have for dance and teaching is amazing. It feels like home at the studio. Shelly at the front desk is so helpful and sweet.
I have been dancing at Études de Ballet for about 8 years and my love for dance has really grown since I started with them. The staff is amazing and the studio itself is beautiful. Études offers a wide range of dance forms and provides the students with well trained, knowledgeable teachers. They welcome all dancers- both new and advanced- of any age, and allow them to feel comfortable with the students and instructors, and have a great time while dancing.
Working with the staff, I was able to place my daughter in a class where she was comfortable and able to learn. She was having fun and would come home and ask to come back, the front desk staff and other teachers around the studio made it feel like a real family environment. Love this studio!!
Coming from being a competitive cheerleader at the age of 5 I have sustained many injuries to my body. Two years ago at the age of 15 I realized I needed a change. I found the love of dance at Études and for the past 2 years they have now become my loving family. They have taught me all forms of dancing and techniques. I have continued to master and grow in the art of dance. I am currently in ballet, jazz, tap, acro, hip hop, lyricle, and modern in which the talent produced by the teachers has taught me many new skills. My teachers and my dancing friends hold many special places in my heart.
We LOVE Études!! My daughter has been a student there for several years and we are completely thrilled with the level of skill coming from the instructors. They are great with kids of all ages. Everyone there treats you as part of the Études family from the moment you walk in. I highly recommend it for small children up to adult level. I have also attended several events there and it makes a beautiful choice for weddings and parties.
Call Études de Ballet for any questions you may have about our staff, studios or classes.