Children's Dance
Program Classes
ÉdB's dance program has classes in Ballet, Tap, Acro, Musical Theater, HipHop, Jazz and Lyrical. It is for children aged 5 to 12 years old. Students will learn the foundations of strong technique and artistry and will develop friendships and a passion that will last a lifetime. Our classes foster discipline, kindness, self-expression, teamwork, hard work, and happiness.
Each class will perform in our Spring Production and have the option to be part of ÉdB's annual The Fairytale Nutcracker, Competition Team and/or R.A.D. Ballet Exam Program.
Children's Ballet Dance Class
Ballet is the foundation for all other dance techniques. Students will learn grace, poise, good posture and terminology. Ballet movements vary greatly from technical barre exercises to flowing arm movements to sustained balances to pirouettes to traveling combinations across the floor to jumping and leaping.
The discipline, focus, etiquette, and range of motion learned sets students up for successful, healthy and happy lives.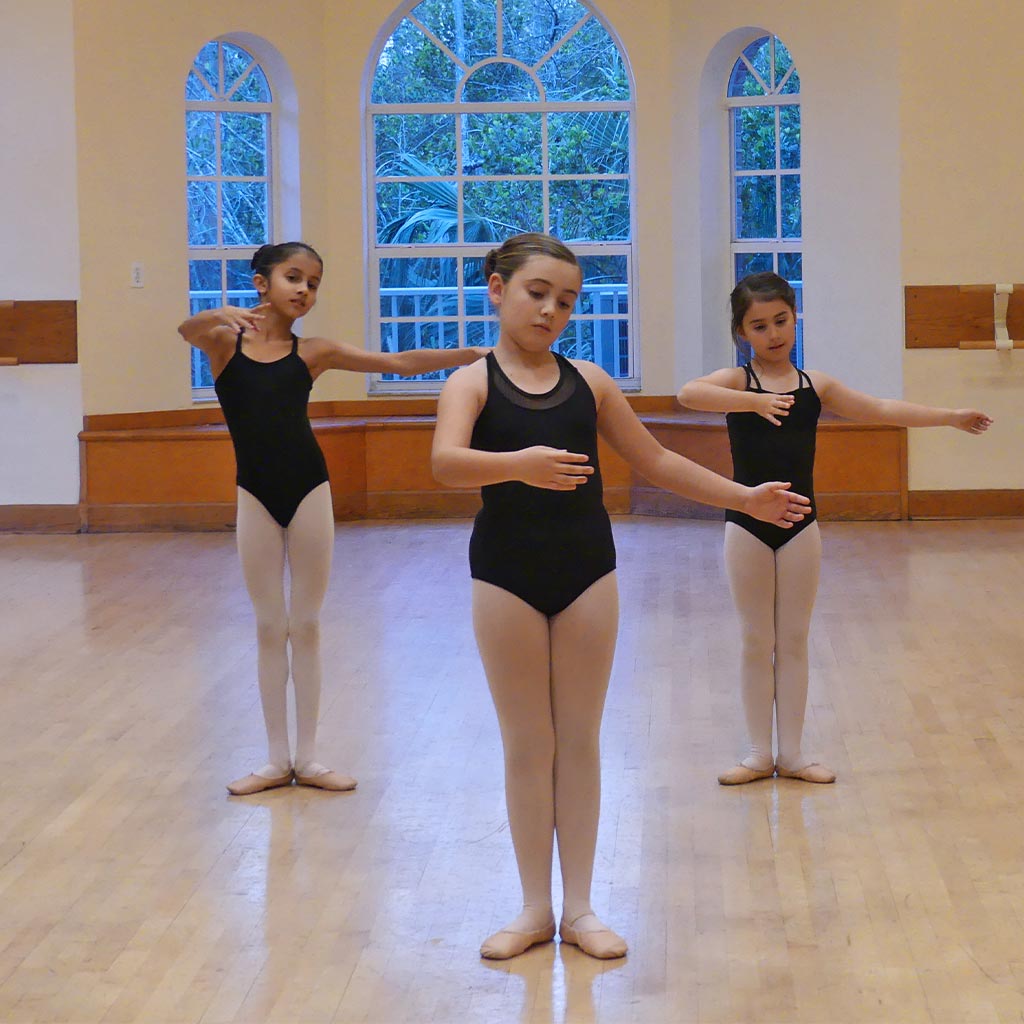 Tap Dance Class For Children
Tap dance is like playing drums with your feet!
Classes increase cardiovascular conditioning, strength, flexibility, and coordination. Through combinations, dancers build strength in the legs and feet in addition to increasing flexibility in the hips, knees, and ankles.
Children's Jazz & Lyrical Classes
These classes incorporate a variety of styles from high energy performance jazz to emotional lyrical combinations and include some stretching and conditioning and lots of turns and leaps. The health and physical fitness benefits of jazz dance include increased strength, flexibility, coordination, and endurance.
The athletic, full-bodied nature of jazz dance develops arm strength from floor work, leg strength from jumps, and core strength from coordinating the limbs.
Children's Acro Dance Class
Acro is a style of dance that combines classical dance technique with precision acrobatic elements.
It is defined by its athletic character and its unique choreography, which seamlessly blends musicality, emotional expression, line and extension with acrobatic movements and floor gymnastics.
Musical Theater Children's Class
Musical theater is a theatrical, performance class. It introduces students to popular musicals that may have been performed on Broadway. They learn to convey a story and/or emotions through movements, acting and staging techniques.
A super fun class where technique is less important and performance is everything.
Hip-Hop Dance For Children
Hip-Hop refers to street dance styles primarily performed to hip-hop music or that have evolved as part of hip-hop culture.
It includes a wide range of styles and will help increase flexibility, balance, coordination, self-confidence, artistic expression and range of motion.
For information on Children's Dance classes & programs, please contact Études de Ballet.